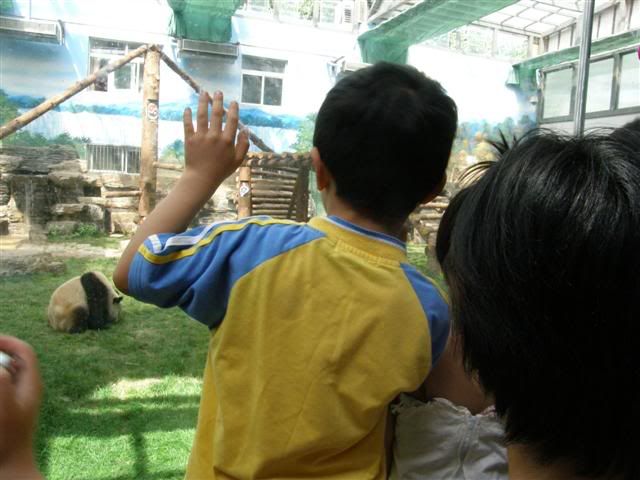 We had only one day in Beijing that was free of guided tours. I had thought to visit the zoo that day because it was not included to the tour and I wanted to see panda bears. Due the lack of Chinese language skills I had asked a local friend to become my personal guide for that day. Somehow, I found five local guides...
At first Linda asked if her friend Joy could join us too, Well, why not... Oh, and her daughter would love to come too unless she wasn't too shy to join the group where there was an European paleface... Err, of course she could come too if she dared...So, Joanne was in. Somehow a tiny girl Easy (3-years old) and a tiny boy YiYi (5-years old) joined the group and there we were sitting in a "taxi" heading to the zoo... I was sitting on the front seat and could feel little fingers touching my blond hair several times! What a freak I was!
By the way, the "driver" had probably won the driving license in a lottery if he had one at all. Somehow we arrived in the zoo gate sound and safe. That was a lucky start, obviously there's not a habit to use seat belts in China
YiYi's two fingers! I don't quite understand the meaning of that sign but Chinese kids always do that when they are posing in a picture.
At first there was the building and cages for pandas. Pandas looked happy and I saw them well :)
Little Easy looked very happy too!
I had heard a rumour that pandas were changed to clean black and white pandas before the Olympic Games. I don't know if it's true but these were more or less black and white coloured. They looked much better than I expected.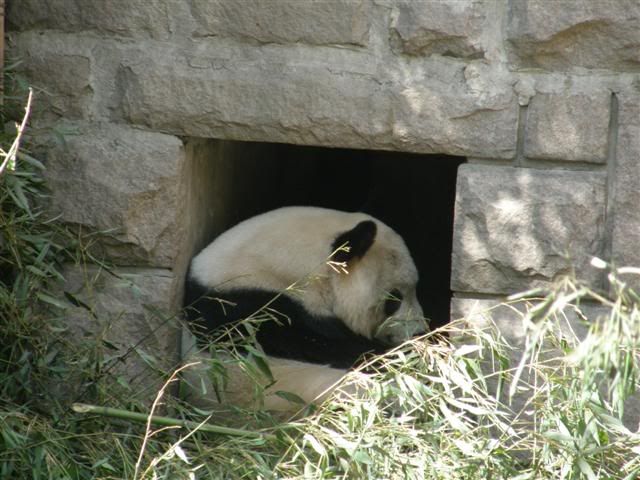 Acting dead!
Eating bamboo is pandas' job (if not sleeping).
The weather was great and sunny, maybe almost too hot.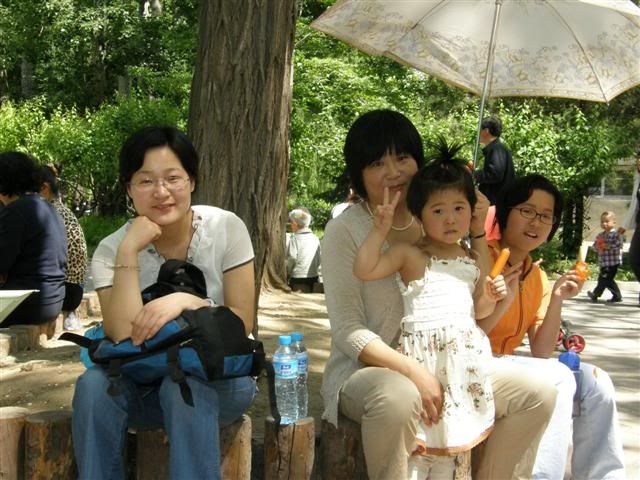 Easy's happy hair day! She had promised to her mom that nobody has to carry her. Little girls and their promises!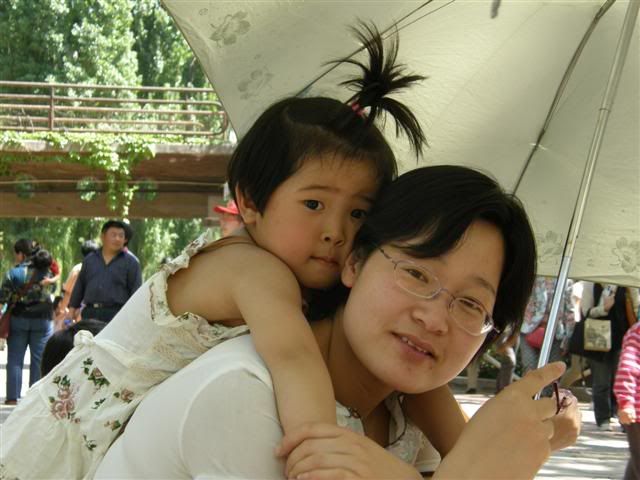 Oh, a giraffe. You could buy a bunch of leaves and feed them.
An ostrich ate anything people gave for them. (Not good)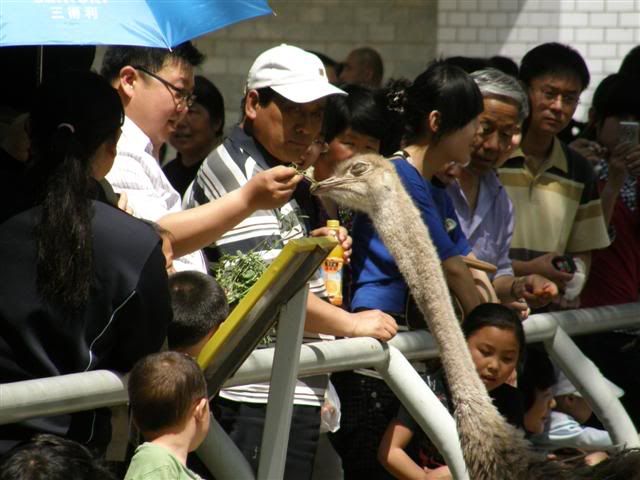 Yummy, ice cream and two fingers...
Oh, a hippo - a huge hippo!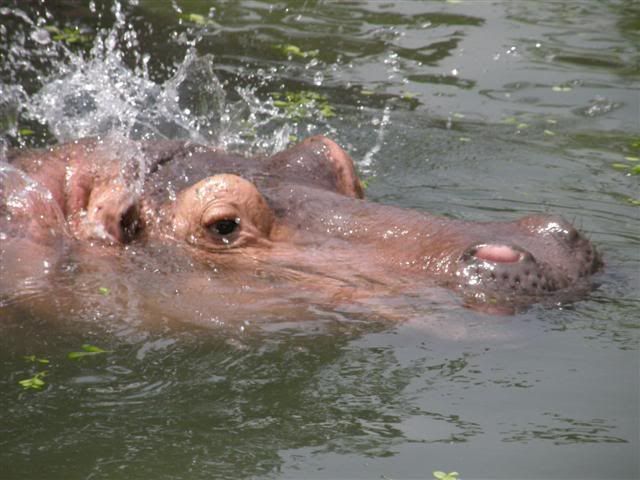 Asian elephants...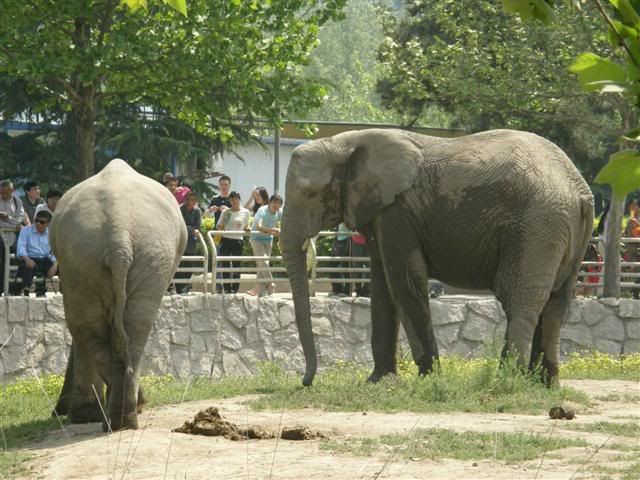 The aquarium was great. So many big tanks with sharks, corals and hundreds of other species. There was a huge hall for dolphins and sea lions too. The show was funny, I liked especially dancing sea lions.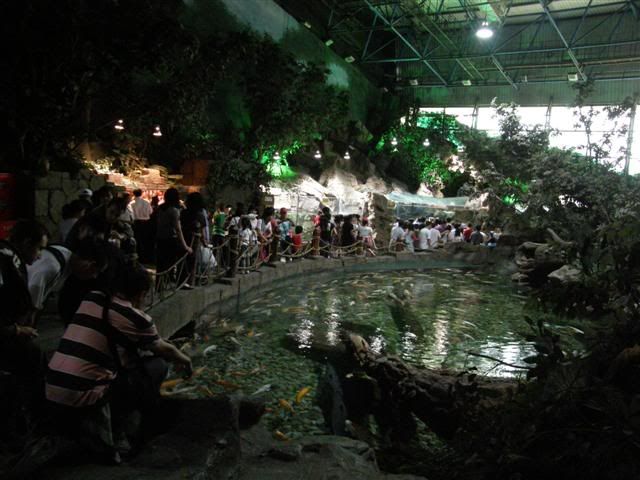 The zoo is absolutely the biggest one I've ever seen. There was too many people, some cages were too small and locals didn't respect the privacy of animals - they knocked the glasses, fed the animals and so on... Anyway, the place is worth visiting and I must say that this was one of my happiest days in my whole life, thanks to my local guides :)
After four hours under the heat of the sun, the smallest of us was already sleeping...