I don't quite remember how it happened but somehow I found myself AGAIN climbing the highest mountain in South-East Asia. Probably I can blaim on a certain Malaysian lady who kinda invited me to go there. Last time (3 years ago) I had trained at least half a year, had lost some 20 kg of my body weight and felt myself much more athletic than this time! This time I was a member of Malaysian group of semi-pro climbers and I was convinced that I would be the slowest of them all. Others trained a lot, they had several training climbs before the event but I had an honour to "train" myself because I wasn't in Malaysia at that time. Then, somebody from "upstairs" blessed us with a lots of snow and -25C winter temperature sooo my training was pretty much on the psychological side. Before the winter hit, I had done some long distance walks, climbed to Mount Kebnekaise etc. but still - I didn't train enough.
The view up to the summit
There I was wearing my new blue/white shirt. The colours of the flag of Finland! The weather was nice, cloudy and not too hot. I think it was around 8am when we started to climb from Mesilau to the base camp Laban Rata. The trail was 8 kilometres long including about 1300 metres ascent.
Everybody had a climbing buddy, mine was doctor Moktar (the man with the cap). Obviously, we were one of the slowest ones but also we were wise enough to keep up our own pace! We saved some energy which is a reasonable way to reach something which was classified as "a mission almost impossible".
If I compare this climb with the previous one - I was more experienced. I had a better climbing technique, I didn't rush, I had more water and food and I knew what was ahead. With my knowledge, I compensated the lack of training and I felt good all the time! I had patience to stop every now and then and take some photos and ENJOY the climb.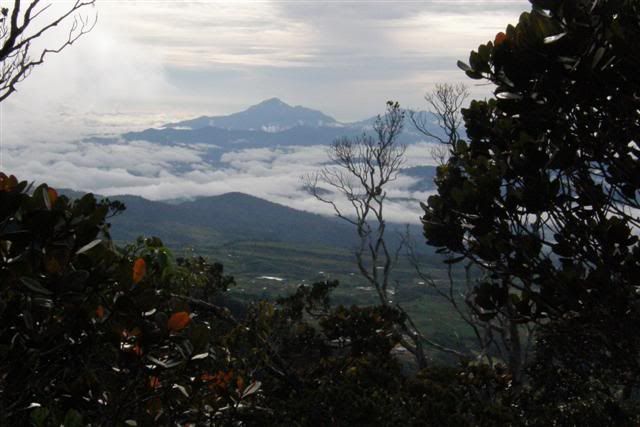 Some food and drinks at shelters, after a short break the climb continued!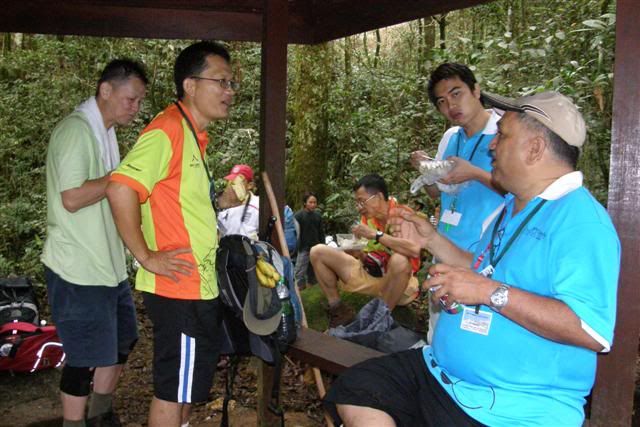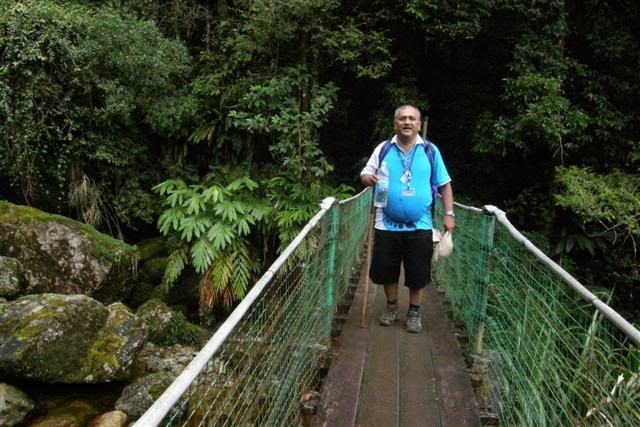 The Mesilau trail is really beautiful. It leads through the real jungle, diverse and unique landscapes with numerous trees, plants, birds, insects and streams...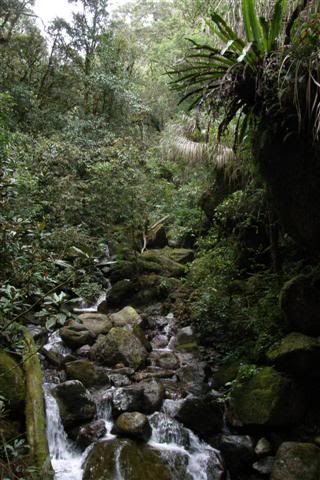 ...but not so many animals. They were hiding somewhere.
4 km, the half way of the first leg.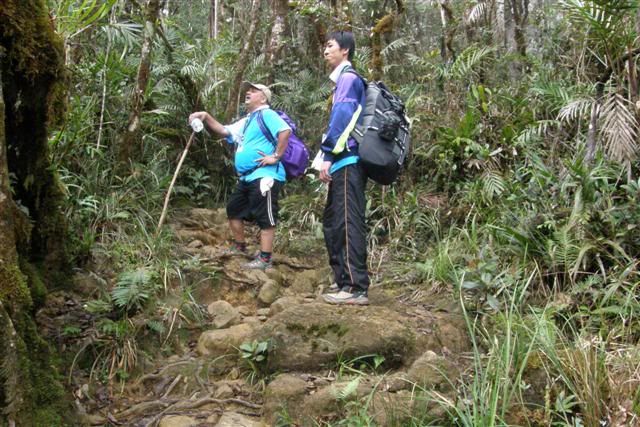 The height from the sea level was about 2500 metres. We reached some clouds!
...break, walk, break, walk...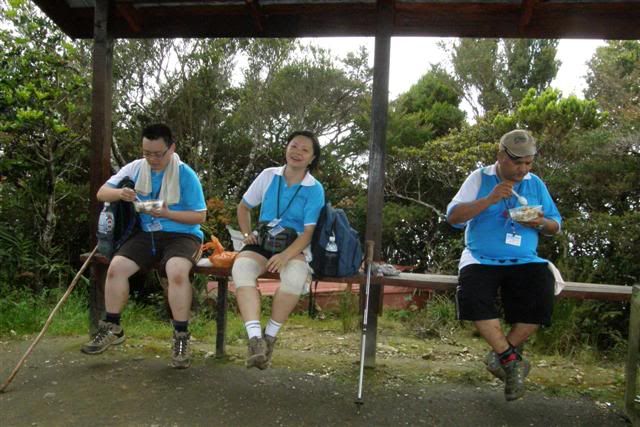 It's amazing how I had forgotten most of the places since the last climb but this place I still remembered. One of my favourite places on this route.
The path went downhill and then uphill again. The Timpohon trail (the other trail) is 2 km shorter and only uphill all the way. I like this Mesilau trail better.
Steps, steps, steps... Very difficult to climb because you can't chose the length of your step. In secret, I had trained this leg (Pispala Stairs, well, maybe not so secret after all).
Two porters! Yep, there are porters who will carry some of your gears up to the base camp and down. All you need to carry yourself is water and food you need during the day and some gears like raincoat, camera etc. I think that's cheating! I'm used to carry all my gears when trekking; tent, sleeping bag... 20-25 kg. Now I had only about 5 kg in my small backbag. And boy these guys (boys and girls) really fly up and down the path! They can also carry a climber down if needed (it happens time to time). I had booked two girl porters in case I was not able to come down :)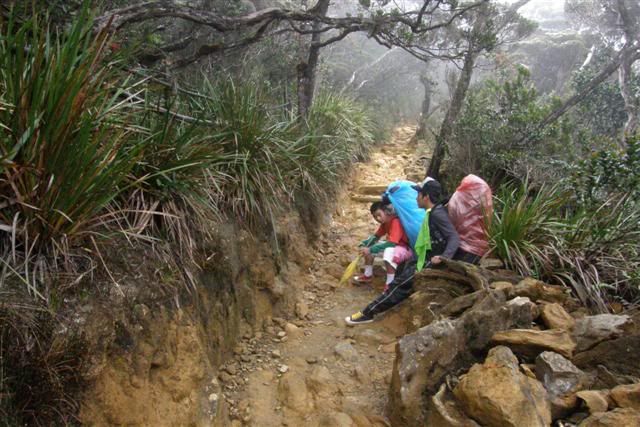 3000 metres! At this point I had abandoned my climbing buddy! Shame on me :( I felt a need to climb a bit faster, doctor Moktar had some other people with him so he was in safe hands. I reached two young and so so tired boys and one of my girl porters soon after abandoning my climbing buddy. By the way, there's a written sign 5,0 km, from Mesilau trail it's 7,0 km at this point.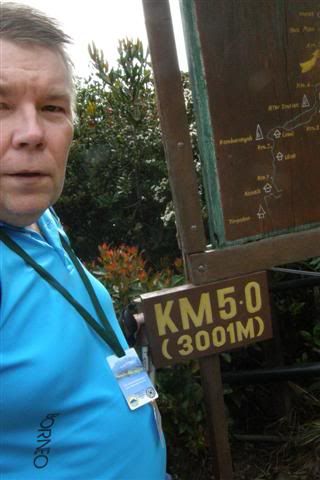 A real pro-climber, the squirrel. These wild beasts were stalking tired climbers, I assume they are carnivores!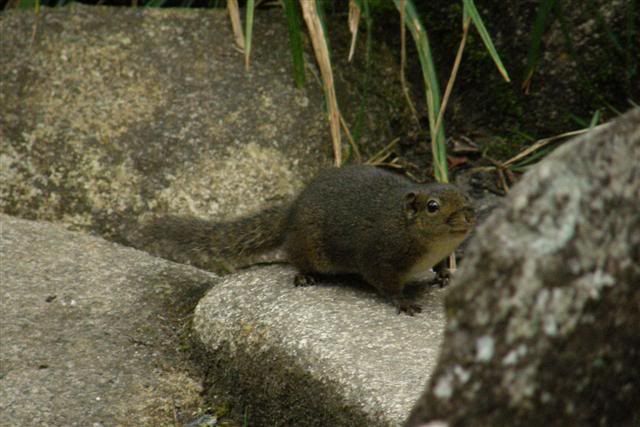 Eunice, my loyal "sherpa". The other one - Rachel - was not so loyal, she had abandoned her climbing buddy and was already sipping hot chocolate at Laban Rata!
The first leg was almost behind.
It's a nice feeling to achive the base camp. It took about 8 hours to reach the place. I was tired but didn't feel any pain in my muscles. We settled down in a hut. It was not heated, only cold water was available and the "toilet" was bad. But we had a roof above us. That was good because it started to rain and it rained a lot!
Somebody had found two Finnish travellers lodging in the same hut! We chatted a little, the guy came from the same small city I come from. The world is small!
We had an intention to continue at 2am. The final summit attempt.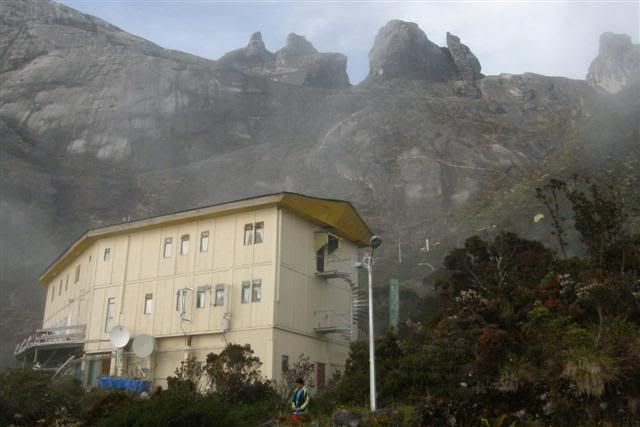 Some photos shot during the day 1.
to be continued...