I didn't sleep at all. It rained very heavily all night long. I had the upper bunk in a small hut. My blanket was wet and water drops dribbled from the ceiling making my rest somewhat unpleasant. Around 1am. my buddies started to wake up and make some breakfast. It was still raining. We couldn't start climbing and had to wait. Rain makes paths and cliffs slippery and dangerous. Tiny streams may turn to waterfalls and suck climbers down. Not nice!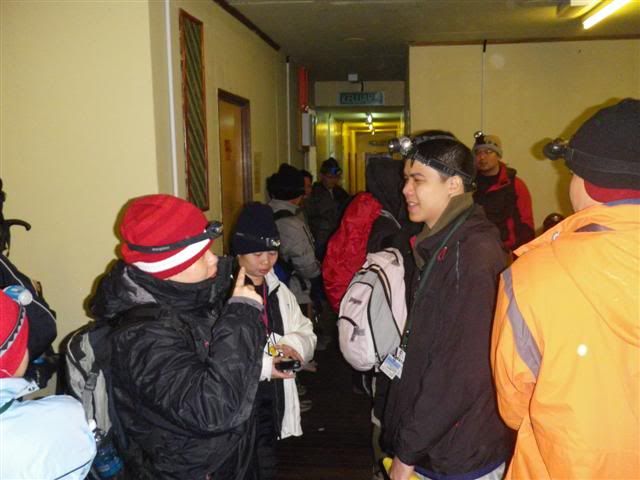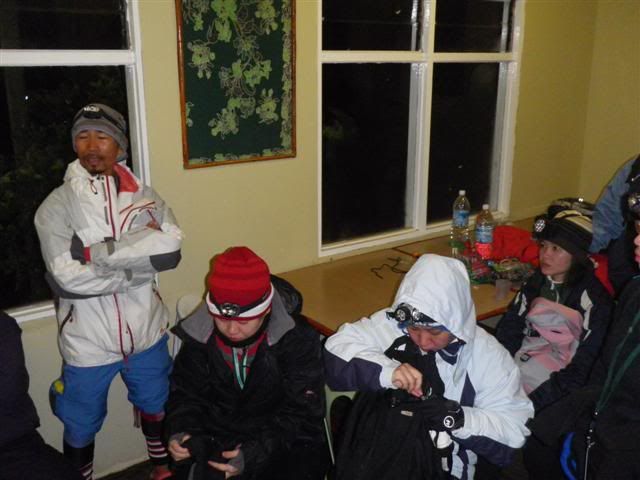 At 3.15am. it stopped raining and we were ready to go! My buddies were wearing all the clothes they had - I didn't need so much because obviously living close to the northpole had hardened me. The mist forced to use my wind and waterproof jacket and later wind started to blow. But for me the weather condition was nice and cosy. The head torch lighted the path in the middle of the dark night.
The idea of climbing in the darkness is to achieve the summit when the sun rises. I was lucky when I went there for the first time because the weather was clear. This time it didn't look so promising. At Sayat Sayat check point the altitude was 3668 metres.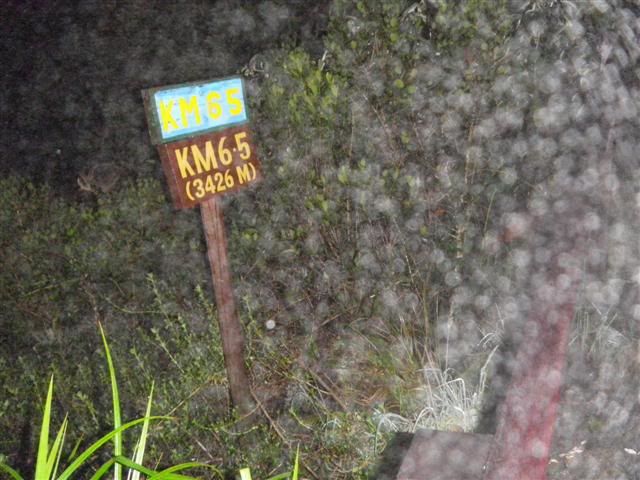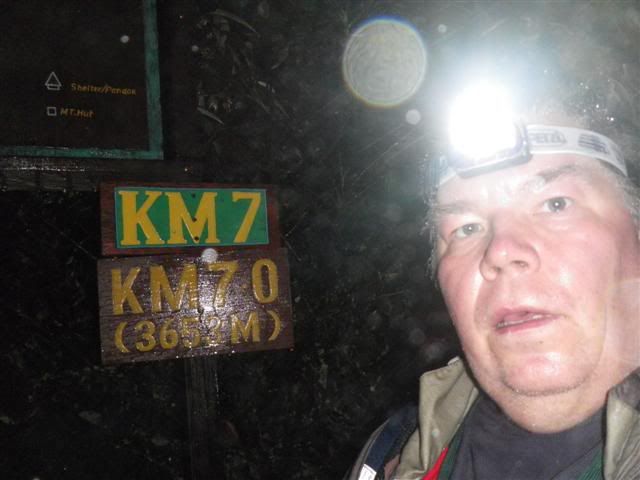 After three hours climb, the daylight reached climbers. So far, I had followed the rope which marked "the path". No visible path could be seen on the cliffs. Time to time the slope was so steep that you had to climb using the rope but because it was dark you could not see the place and it's height.
According to my Finnish Suunto wrist-computer, I had 100 metres to go up when the sun rose. The weather was still cloudy and misty. First climbers came down soon when I continued my climb.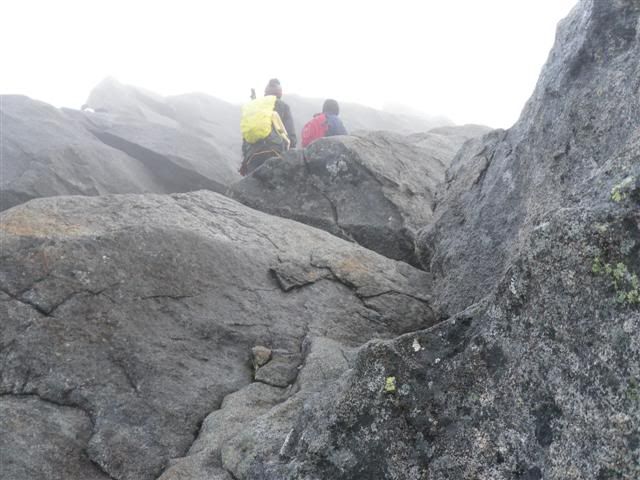 Last metres were difficult, big rocks seemed to continue endlessly.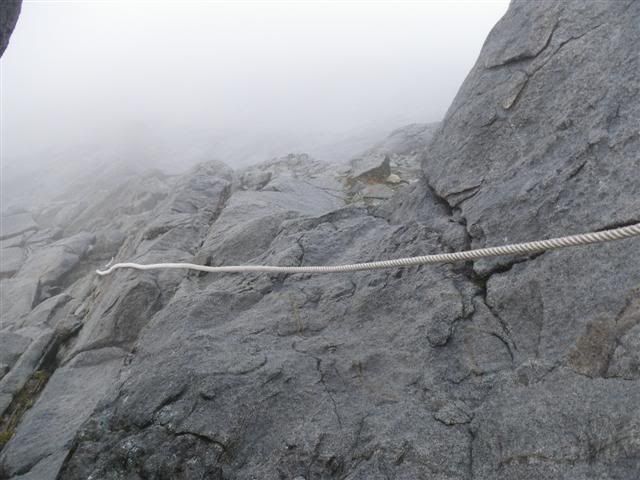 The summit!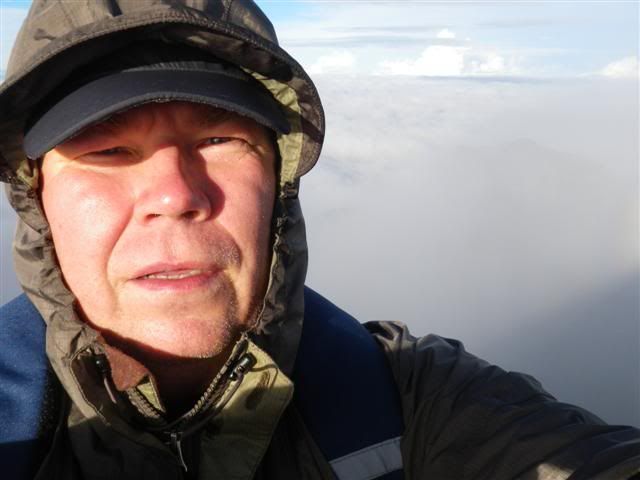 Suddenly, clouds and mist disappered. Some of my buddies and me saw an
angel
! I shot some photos of the landscapes and helped two buddies to take photos with their cameras - they weren't able to use a camera because of numb and frozen fingers.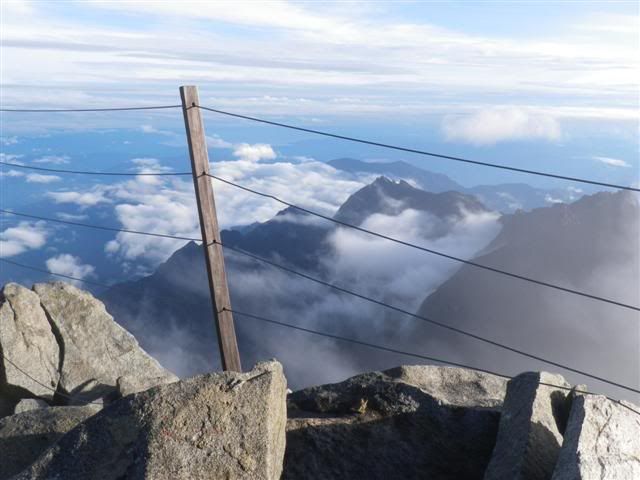 I wasn't the last one up there! I met Finnish travellers on the summit and soon after me my climbing buddy doctor Moktar arrived on the summit too.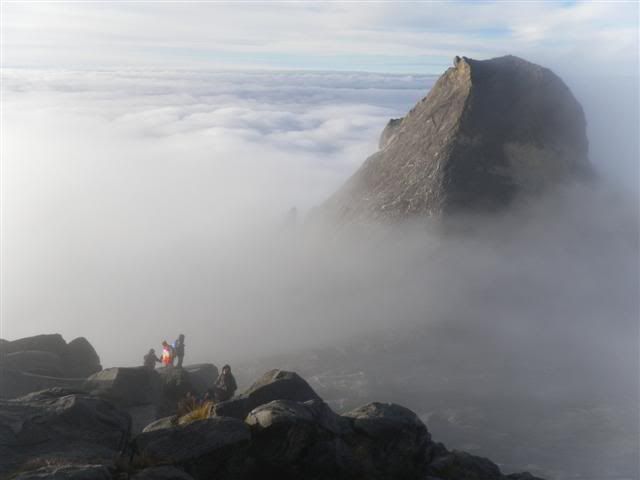 After a short rest, I started to descend.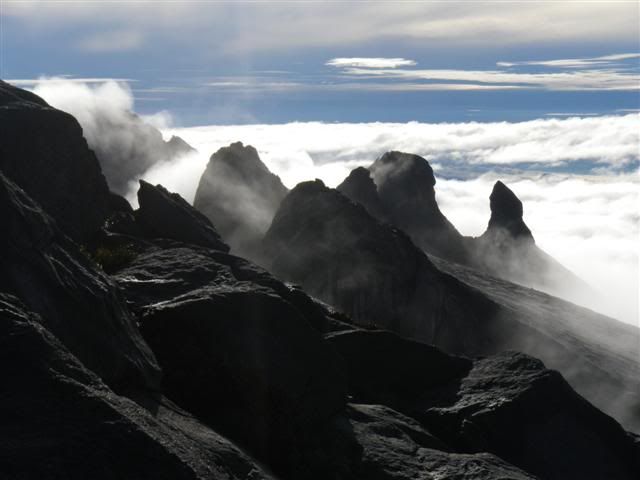 My loyal sherpa Eunice was still close and ready for action if I wasn't able to go down myself. According to rumours, the other one was somewhere close but probably she tried to hide in case I really had needed help. (I booked these girls online - I didn't know they both were less than 5 feet tall and most probably not able to carry me down!). I knew the summit was only the half way for me. I still had to go down and if I remembered it right, going down is almost as difficult for me than climbing up. Slowly, at my own pace, I went down...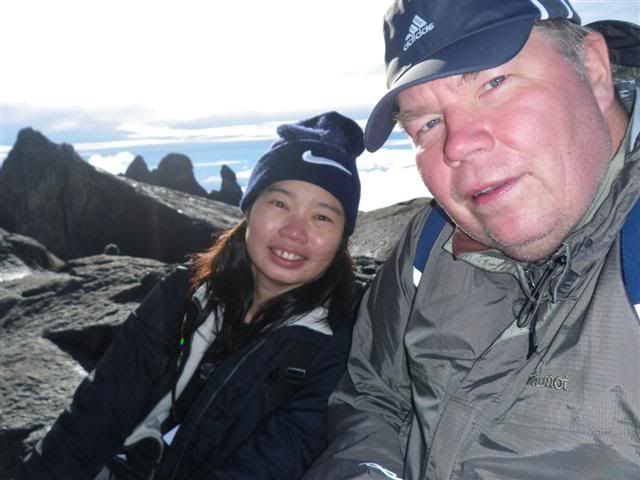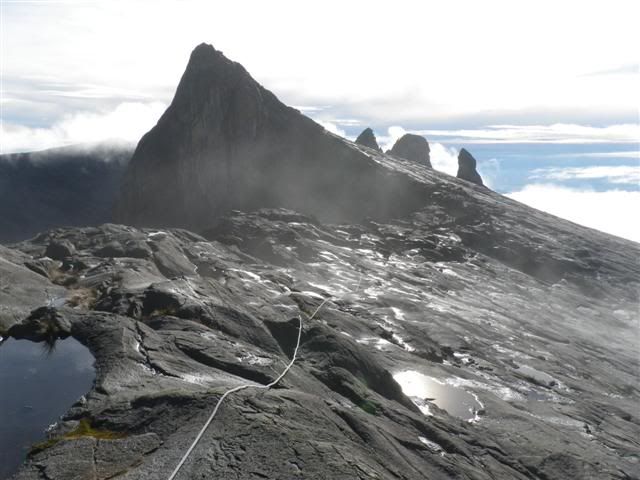 Low's Peak, 4095.2 metres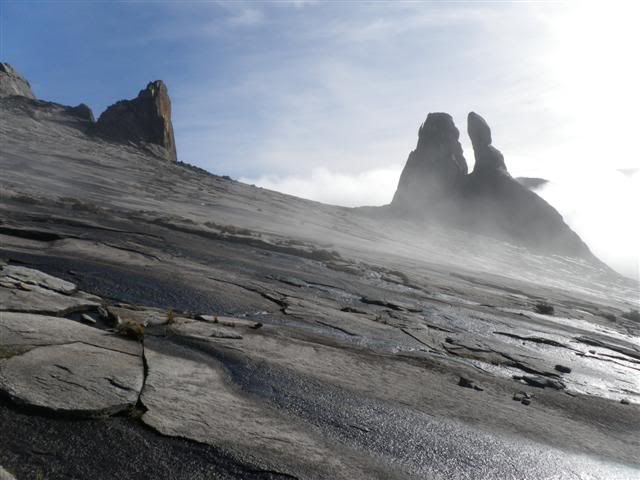 Heading down, some stairs...
... and the rope section. The steepest part of the climb was here. When ascending in the darkness, you didn't know much about this, in the daylight some people may feel afraid of heights here.
The village where the climb started (the raflesia photo on my previous entry) is down there!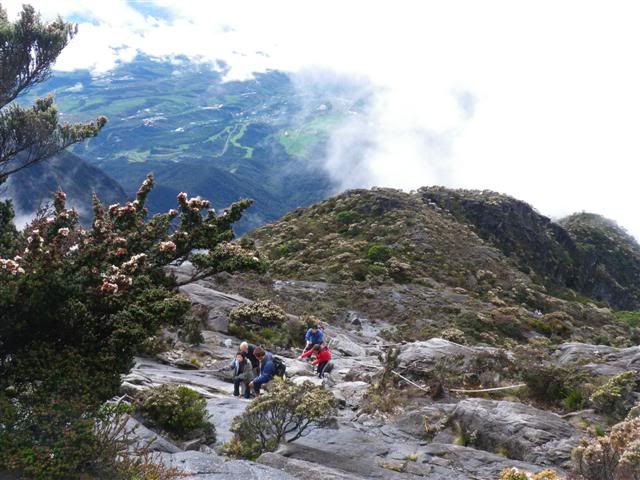 The weather became misty again. A big group of climbers came up and I had to wait for my turn for a long time!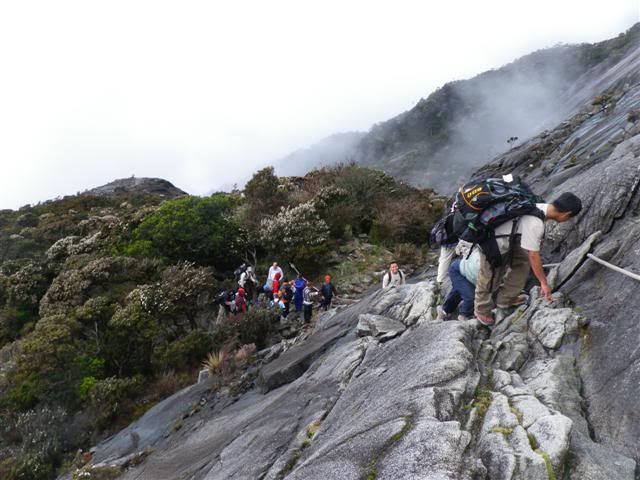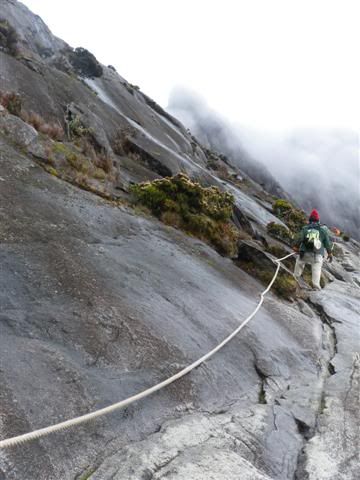 Around 11am. I was back at Laban Rata.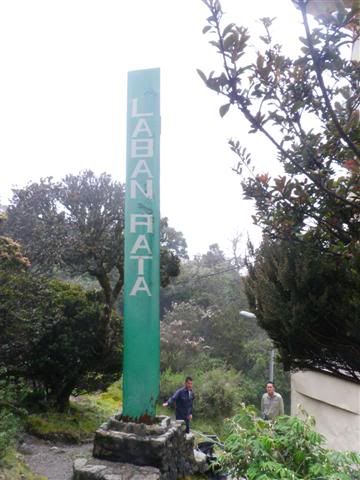 The rest of descending was pretty much the same as climbing up the day before. Timpohon trail is shorter than Mesilau trail. It doesn't make it easier, it's steeper. There are some horrible steps, I came down really slow! I didn't want to hurt my knees. My nordic walking sticks were a great help!
Four hours later, I reached Timpohon. I was tired but didn't feel any major problems in my body. Of course I was happy too. I did it - again!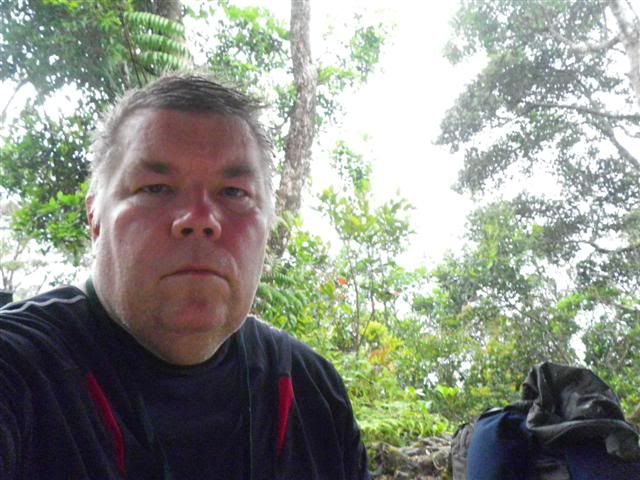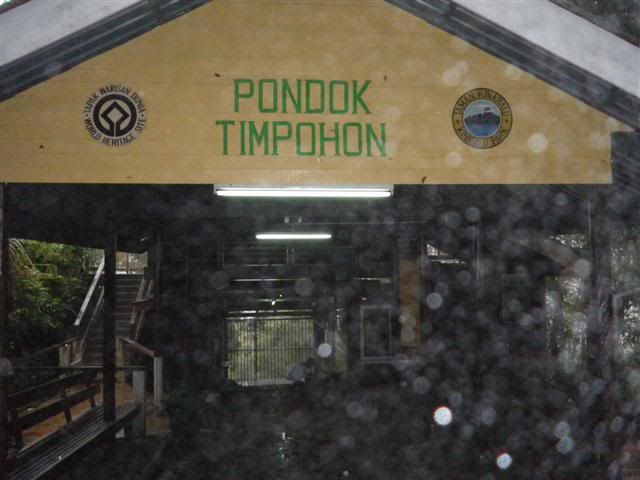 Some people of our group didn't reach the summit. Some suffered the altitude sickness and some were too tired or both at the same time. My climb was much easier than the first climb. My own pace - that was the secret. The next day, I was able to walk, later I had some pain in my legs. Nothing serious though. After my first climb, I was two days paralysed in my bed at the hotel and could hardly move my eye balls! The third day after the climb, I went to the massage but that's another untold story.