Ready for the summit attempt!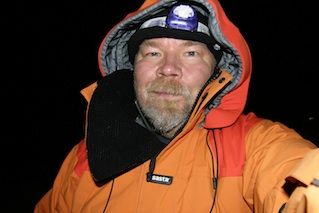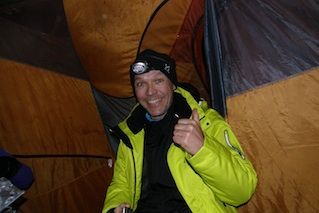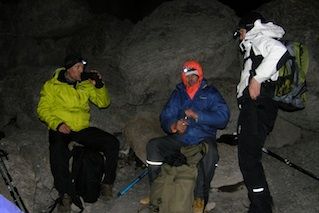 At 00.45 am. we started our never ending climb to the summit. We were the last group, other groups were ahead of us. In total darkness only headlamps were showing the path. Step by step, pole pole... the night was not cold but very windy. Hands a bit numb, otherwise warm enough. Maybe -5°C. Time to time had to stop for drinking and breathing, continue climbing and again stop... breath... pole pole... Some climbers came down feeling very sick, they didn't make it. Somewhere, maybe 5000m altitude I felt some headache. I took one AMS pill and one painkiller. I didn't feel the pain after that - or at least I don't remember any pain. Climbing, climbing, climbing...
I think it was around 7 am. when the first rays of sun reached to the summit, little before I reached Stella Point.
It was so beautiful!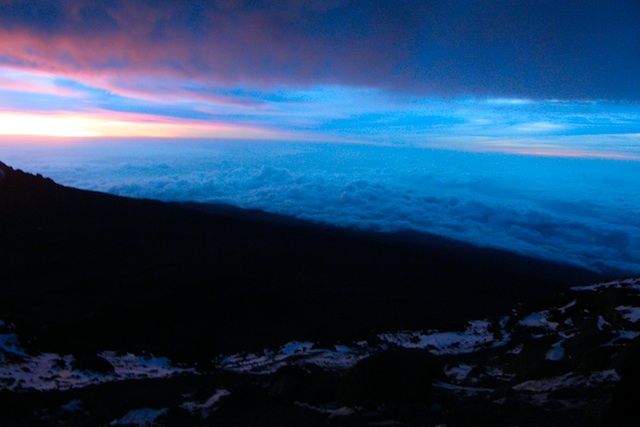 The sun! (The original photo - I didn't use photoshop)
Stella Point, still 150+ meters up to the highest peak, a cup of tea as we were told...
Mount Mawensi.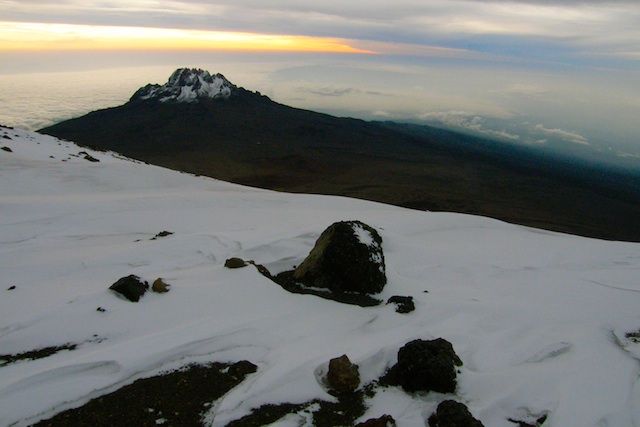 The Glacier.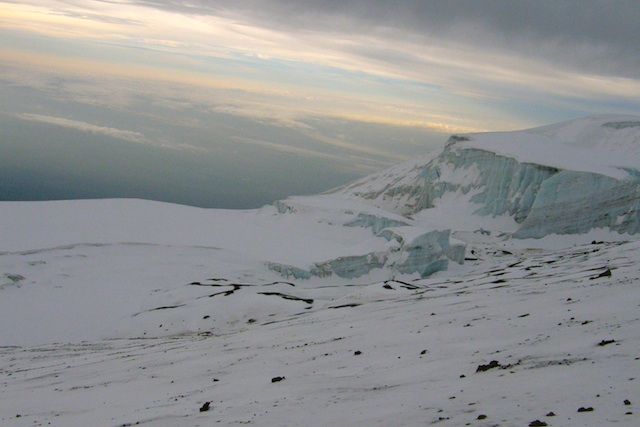 Two climbers at Uhuru Peak, 5895 metres above sea the level. I reached the peak around 8 am. Others of our group were there 10-15 minutes earlier and started descending before me. All the others went down and there I was - almost alone, and Ivan and my loyal guide Rama!
We were advised to stay on the summit maximum 5-10 minutes, not longer. Otherwise, the risk of getting acute mountain sickness would become more serious. I was feeling perfectly okay. I would have stayed there longer... but we had to go.
Some snow on the ground. The never ending descending started...
At first, the path was relatively easy to walk, the same path we climbed up.
At some point, there was a crossing. Different path downwards. Now the "joy" really started. The path was like a gravel river. Every step you take slides down another step or more. It was like skiing downhill (without skis of course). Very tiring! I was a bit afraid because of my knees and kept my own pace (very pole pole!). Time to time I was just sitting and resting my legs. I could say that my energy level was really low. I ate some energy gels - that helps.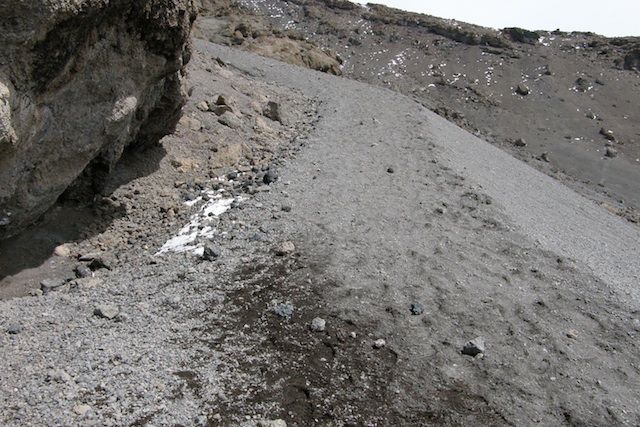 Around 12 pm I arrived to the base camp. My team buddies were there 1-1,5 hours earlier.
After a short break and lunch we continued descending to the lower altitude all the way to Mweka camp (3060m). That was because staying higher, we might still get AMS.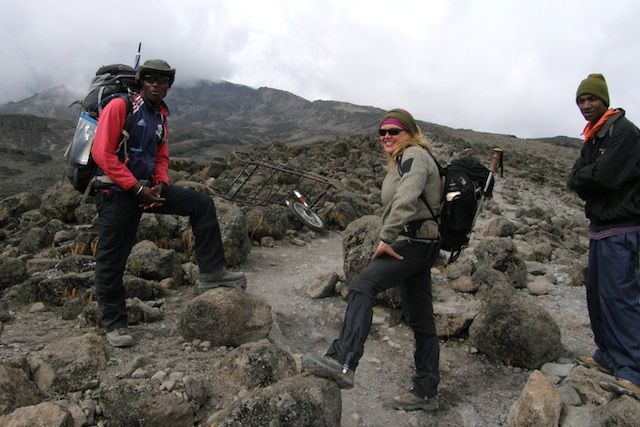 It was not so encouraging to see these roller stretchers, that's like a local ambulance! The path from the base camp to Mweka camp is the main road down from the summit... I was just wondering why there were so many stretchers!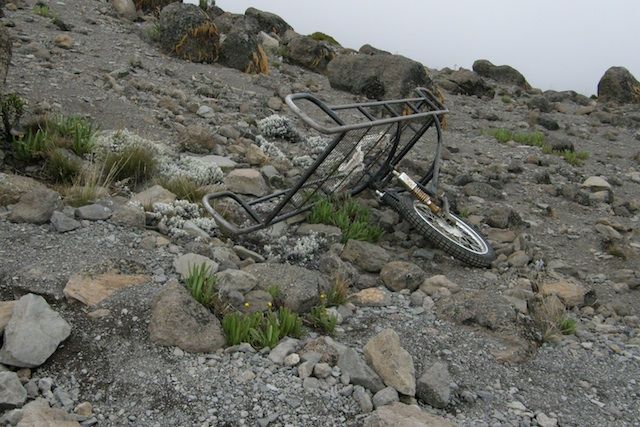 Not to mention these ravens... waiting for food perhaps!
Later, the path changed more difficult. It was like a dry or almost dry river. Rocky, muddy, slippery. Energy levels very low. Little before arriving to the camp, darkness arrived! Again, needed headlamps. Around 7 pm. the never ending descending finally was over. It was a loooong day!
Late dinner and the tired climber crawled into the sleeping bag. I started coughing. I felt like there was dust in my lungs. I think it was raining again...
Tomorrow, we had still a short walk down to the Mweka gate. It was not over yet.